Regular price
$109.00 USD
Sale price
$39.00 USD
Unit price
per
Sale
Sold out
A unique and rich butter that has an amazing effect, it helps to nourish the skin and replenish moisture, restores elasticity and firmness, and gives it a youthful and shiny look!
* This product's expiry date is at the end of March, that is the reason we are selling it at a heavily discounted price. Moringa is a natural preservative, and you'll be able to use this product safely after the expiry date. 
Moisturize your way to beautiful skin with the help of Moringa body butter. It's time to show your skin some affection and hydrate, nourish, and protect it like never before. This rich and creamy Moringa body butter is a feast for the skin. It melts straight in to leave a velvety feeling on the skin. Its benefits include skin care and rejuvenation, stronger and healthier hair, wrinkle reduction, and skin blemish removal.
Some of the other ingredients we use:
Shea butter is rich in vitamins and minerals that nourish the skin and cells and renew their activity.
Almond oil and coconut oil soften the skin, giving it a soft and pleasant touch and fresh smell.
Extraction of olive oil and jojoba which saturate the cells with antioxidants. 
The butter is rich in aloe vera, honey, and moringa extracts for maximum comfort and abundant nourishment of the skin
We add Avocado extract and lavender oil to maintain the elasticity of the skin.
Borage seed oils and extracts provide antioxidant protection and anti-inflammatory and antibacterial actions.
Carrot and pumpkin seed oils, rich in vitamins C and E, help stretch the skin and nourish the cells.
Details

🌿 Details
- Volume: 100 ml
- Body moisturizer
- Moisturizes for 24h hydration
- Nourishes skin
- For dry skin
- Skin is left feeling softer & more supple
- Easily absorbed
- Fresh, green floral scent
🌿 Nutritional value of Moringa Oleifera:
- 92 Nutrients
- 46 Antioxidants
- 36 Anti-Inflammatories
- 18 Amino Acids
- 9 Essential Amino Acids
Warning
- For external use only
- Do not use this product if you are known to be sensitive to one of the ingredients.
- This product should be used according to the instructions and for the purpose intended.
- Do not swallow. Keep away from children and avoid contact with the eyes.
- Licensed by the Israeli Ministry of Health
How To Use

Apply to dry areas of your skin until it is fully absorbed.
The process can be repeated several times a day for optimal results.
Good For

Very effective for preventing stretch marks.
The butter helps the body restore its natural moisture and gives a youthful and shiny appearance
Ideal for treating cases of dry to very dry skin. Guarantees soft skin all day long!
Ingredients

Pure Shea Butter, Pure Almond Oil, Pure Coconut Oil, Pure Olive Oil Extract, Pure Jojoba Oil, Pure Aloe Vera Extract, Pure Honey Extract, Natural Pure Moringa Leaves Extract, Pure Avocado Oil Extract, Pure Lavender Oil, Pure Borage Oil Extract, Pure Carrot Oil, Pure Pumpkin Seeds Oil
View full details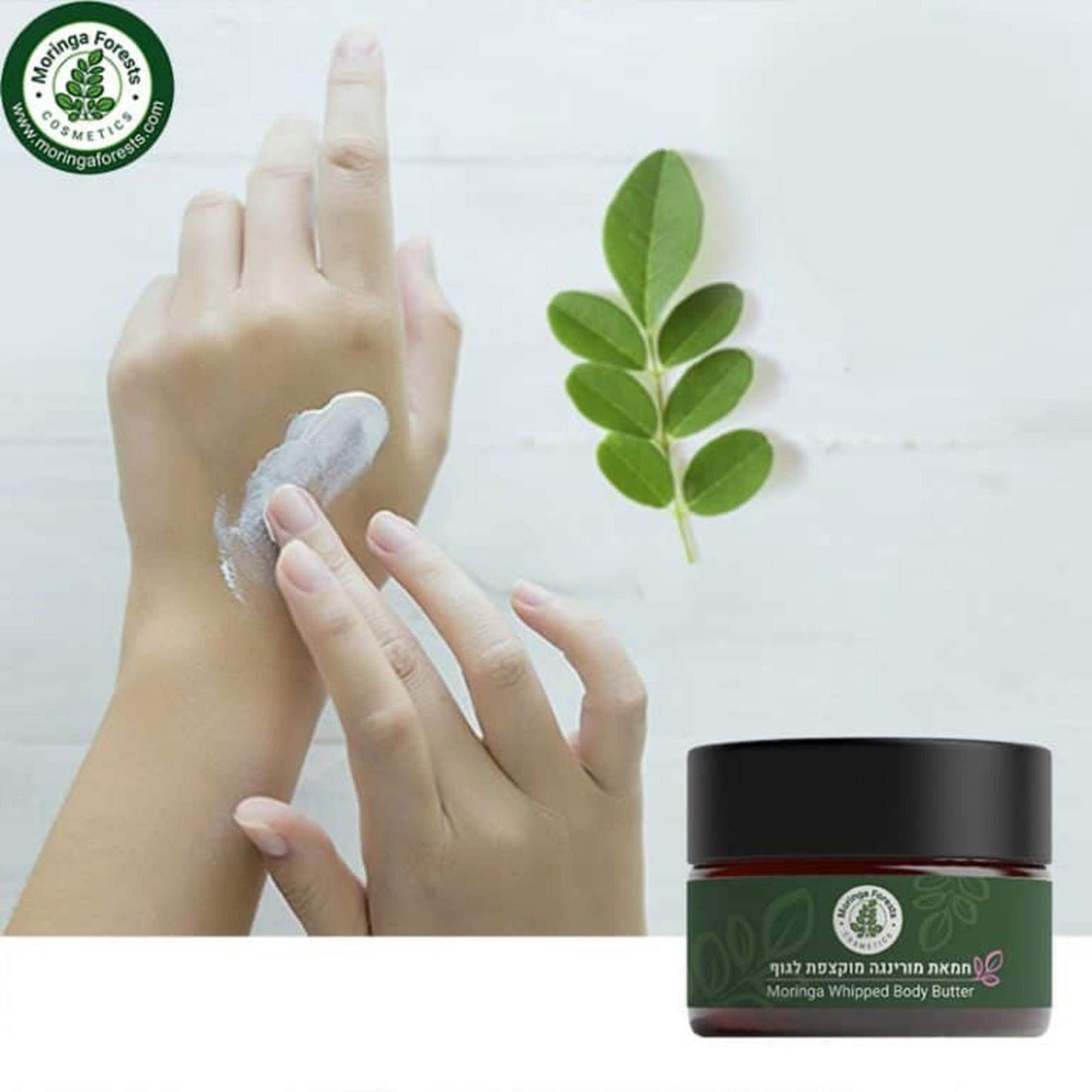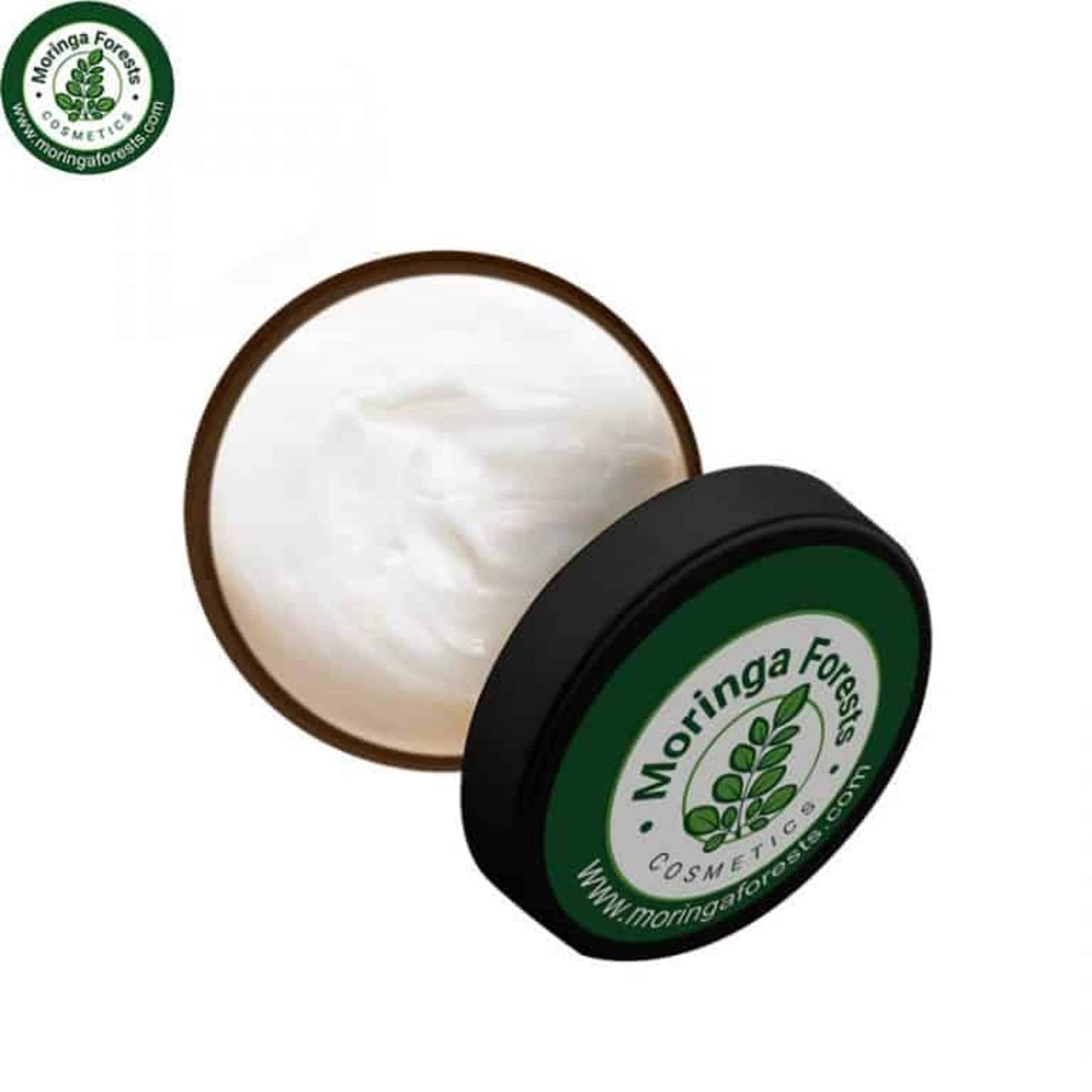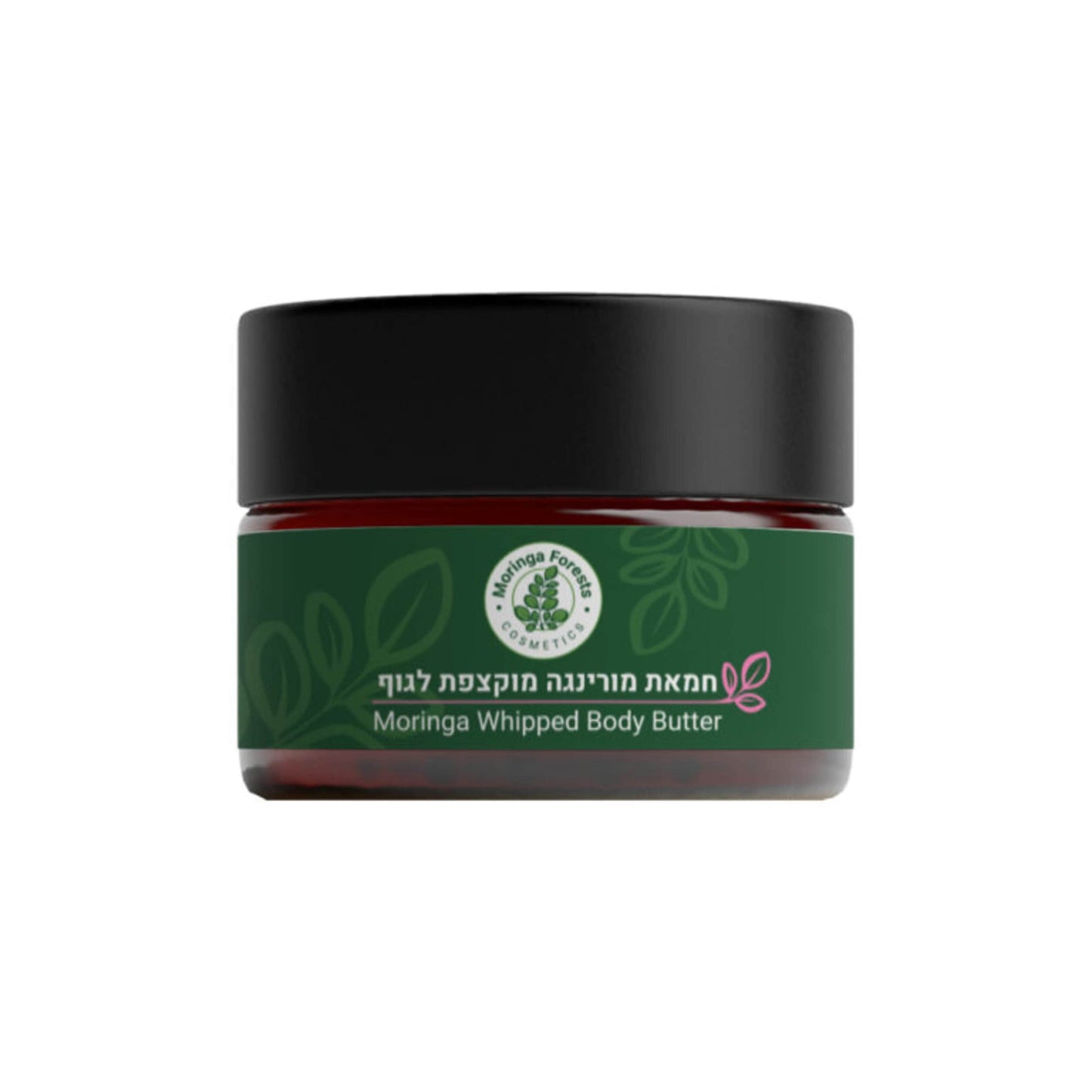 100% Natural

We do not add any chemicals to our products, we only use what mother nature gave us.

Organiclly Grown

We do not use pesticites or chemicals in our farm.

Premium Quality

We only use the produce from the Moringa trees grown on our lands and other natural ingredients

Sustainability

We use natural tree waste as compost, and we use the natural leftovers from the oil production process to fertilize our trees. We even feed our horses with Moringa trees leftovers